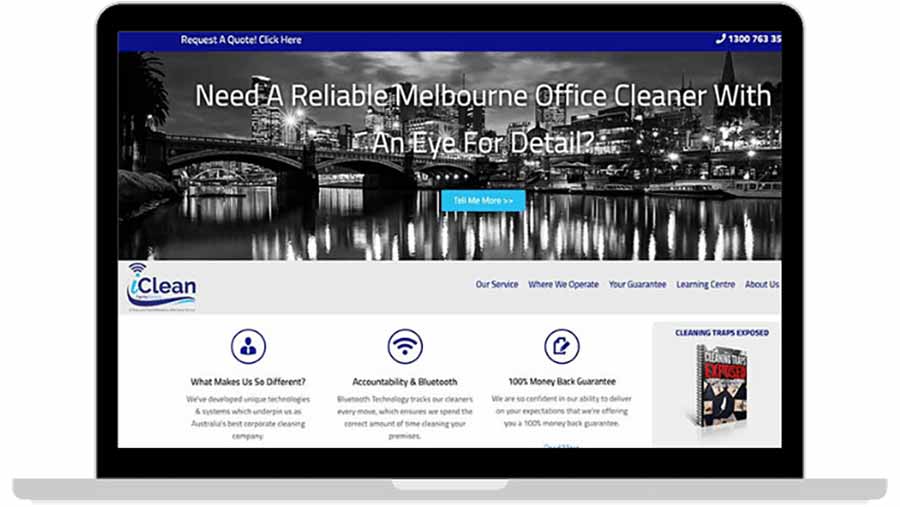 Would you like to work with us?
Let's have a talk and work out if we're a good match for each other.
Website Development & SEO Case Study
The Brief
The brief from this commercial cleaning company was simple – "we want a professional, dynamic and cutting edge website to match our hard earned industry reputation".
In addition, the client was implementing an aggressive 'offline' plan to grow their company, and wanted to use online marketing to:
"Generate leads and customers through SEO",
"Generate leads and customers through PPC Advertising".
Our Approach
When developing websites, one of the first goals is to identify the clients' Unique Value Proposition (UVP). It is 'Unique' because it's something you deliver that your competitors cannot. It is 'Value' in that it produces value for your target audience.
We conducted a 'Discovery Session' that quickly:
identified their target audience,
and uncovered the clients UVP.
We then designed and implemented an impressive looking website that clearly communicated it to their target audience.
The website included the development of an eBook which was used as a Call To Action which enabled the client to collect the contact details of website visitors. This the enabled us to implement email marketing, and marketing automation strategies.
The next step in the process was to increase website traffic by implementing both an SEO strategy and a PPC Google advertising strategy.
As part of the SEO strategy, we implemented a backlinking and citation strategy. We focused on backlinking to the following pages:
School Cleaning Services
School Cleaning Melbourne
Office Cleaning Melbourne
Commercial Office Cleaning Services
We topped off the service by implementing a re-marketing strategy in which adverts were shown to people who have previously visited the website. There was no point in going to so much effort in getting people to the website if we weren't going to follow up with them afterwards. Here is a sample of the adverts:
The Result
"We had 100's of new monthly visitors within 2 months of launching our new website iClean Facility Services. We repaid our initial investment in the website many times over within the first 3 months.

All this was achieved through SEO.……."
In fact, the SEO strategy was so successful that we canceled the PPC Advertising strategy after 8 months. Our in depth reporting and tracking service showed that we were generating more revenue from our SEO leads that what we were from our PPC leads. In most cases, our organic listings were so high that it became unnecessary to pay for the same keyword.